Yoga equipment for beginners - essentials to start your practice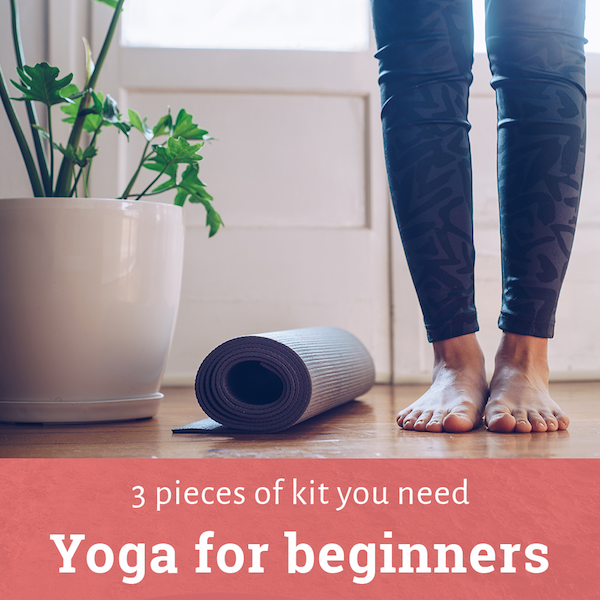 The beauty of yoga is that you can combine yoga classes with a home practice. Most yoga studios will provide equipment for you but if you're a keen beginner, or someone looking to advance their yoga practice at home, you're probably ready to get your own kit. There are an overwhelming number of yoga props available, so here are three essential pieces of equipment you'll need to get started.
Yoga Mat
No yogi is complete without their trusty mat, and there are so many out there to choose from to ensure you find the perfect match for you. Grip mats are great all-rounders and are ideal for stabilising. We recommend that you initially keep it simple — a lightweight, sticky mat in a plain colour, which will maintain your focus. The mat should grip you (although, you may still slip if you are brand new to yoga as it takes some time to build up strength)
We advise you to steer from cheap mats you can buy in supermarkets and high street stores. They often feel very hard and 'plastic' to touch, and can lift from the floor frequently. This will distract you!
Choose a mat with appx 5mm of thickness. Mats over 10mm are too thick as the majority of yoga classes usually incorporate multiple standing poses. Thick, squishy mats can cause you to lose your balance and may strain your joints.
Our recommendation: The Eko Sticky Yoga Mat. It is an affordable, non-slip mat with a soft cushion. It will offer stability in standing yoga poses. It is more eco-friendly than similar mats on the market, as we use a material called PER (polyenvironmental resin.)
It is suitable for hot yoga, although if you sweat a lot, we recommend you also use a yoga towel.
Foam yoga block
This prop is excellent for support and extension during your yoga practice. In the early days of your practice, you may struggle to reach the floor with your hands in some of the standing poses. The most common use of a yoga brick is to support your arms when the flexibility isn't quite there yet in poses such as trikonasana. Bricks can also be used to support the back, head and hips and help your body relax into a pose.
Our recommendation: Our simple foam yoga brick. These are supportive enough to give you the stability you need in the standing poses, but soft enough to form a comfortable foundation when lying or sitting over them.
Yoga strap
Otherwise known as a 'stretching strap', a belt will soon become one of the best tools to improve your flexibility in hips, back, hamstrings and shoulders.
To develop that hip flexibility, sit on the floor with your legs straight out in front of you and your feet together, and then loop the strap around your feet. Hold one end of the strap in each hand in a loose hold. Move further and further down the belt to bring your head closer and closer to your knees in a deep stretch. Remember to keep your shoulders down, and your chest open.
Our recommendation: Eko Cotton Yoga Belt. The 4 cm thickness spreads tension, keeipng you comfortable. The 2.4m length makes this a good, all-round yoga belt.
And, lo and behold! We've packaged everything above into our Eko Essentials Kit with a generous bundle discount (you knew where we were going!) This bundle has visited the pages of British Vogue! So you'll be trendy too! 
As always, if you have any questions about us, our products or life, in general, get in touch!
---